compare with other work by Lomazo compare with other work by Massijs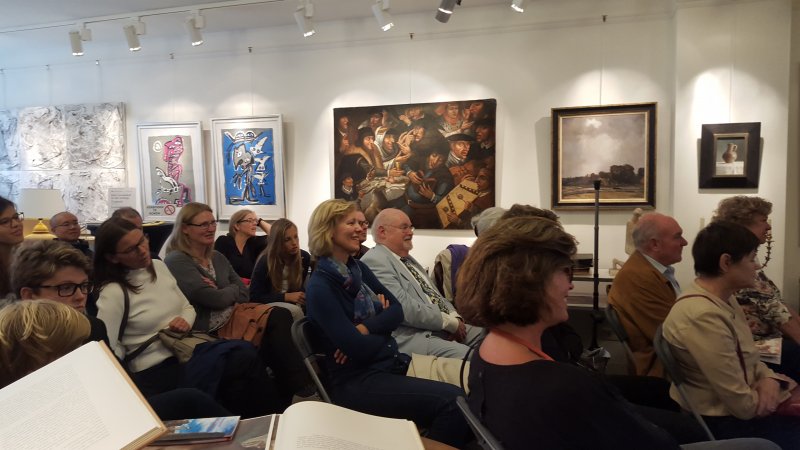 Een deel van onze kunstafdeling in de Literaire Salon
Set of 16 miniatures from the lives of the Virgin Mary and Jesus
Jan Brueghel the Elder (Flemish, 1568–1625)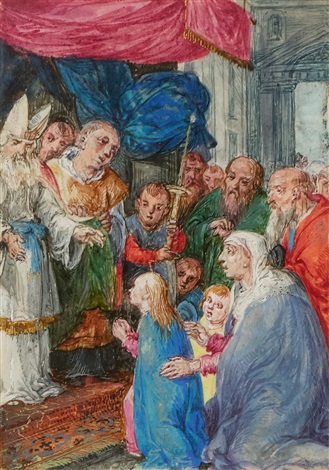 tempera on vellum

Size: 7.4 x 4.8 cm. (2.9 x 1.9 in.)
Jan Brueghel (also Bruegel or Breughel) the Elder 1568 – 13 January 1625)
A Flemish painter and draughtsman. He was the son of the eminent Flemish Renaissance painter Pieter Bruegel the Elder. A close friend and frequent collaborator with Peter Paul Rubens, the two artists were the leading Flemish painters in the first three decades of the 17th century.
Brueghel worked in many genres including history paintings, flower still lifes, allegorical and mythological scenes, landscapes and seascapes, hunting pieces, village scenes, battle scenes and scenes of hellfire and the underworld. He was an important innovator who invented new types of paintings such as flower garland paintings, paradise landscapes, and gallery paintings in the first quarter of the 17th century.
He further created genre paintings that were imitations, pastiches and reworkings of his father's works, in particular his father's genre scenes and landscapes with peasants. Brueghel represented the type of the pictor doctus, the erudite painter whose works are informed by the religious motifs and aspirations of the Catholic Counter-Reformation as well as the scientific revolution with its interest in accurate description and classification. He was court painter of the Archduke and Duchess Albrecht and Isabella, the governors of the Habsburg Netherlands.
The artist was nicknamed "Velvet" Brueghel, "Flower" Brueghel, and "Paradise" Brueghel. The first is believed to have been given him because of his mastery in the rendering of fabrics. The second nickname is a reference to his specialization in flower still lifes and the last one to his invention of the genre of the paradise landscape. His brother Pieter Brueghel the Younger was traditionally nicknamed "de helse Brueghel" or "Hell Brueghel" because it was believed he was the author of a number of paintings with fantastic depictions of fire and grotesque imagery. These paintings have now been reattributed to Jan Brueghel the Elder.
Lucebert
Kunstenaar: Lucebert (1924-1994) geniet bekendheid als voorman van de Vijftigers, maar met zijn figuratief-expressionistisch beeldend werk ook als exponent van de Cobra-beweging. Zijn werk is o.m. vertegenwoordigd in het Stedelijk Museum Amsterdam, Stedelijk Museum in Schiedam en het Cobra Museum.
Zwerver aan zee
Jaar: 1987.
Afmeting afbeelding: 61×45 cm.
Afmeting papier: 70×53 cm.
Signatuur: r.o. met potlood.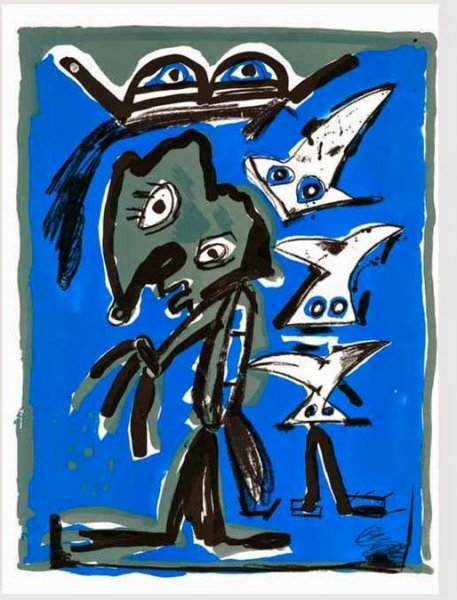 Lucebert - kleurenzeefdruk - ' Zwerver aan zee' - 1987 (KLEINE OPLAGE)
Lucebert - kleurenzeefdruk - ' Weduwe van de zee' - 1987 (KLEINE OPLAGE)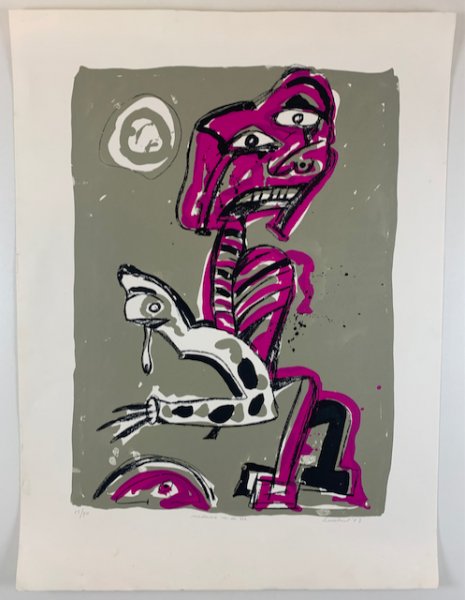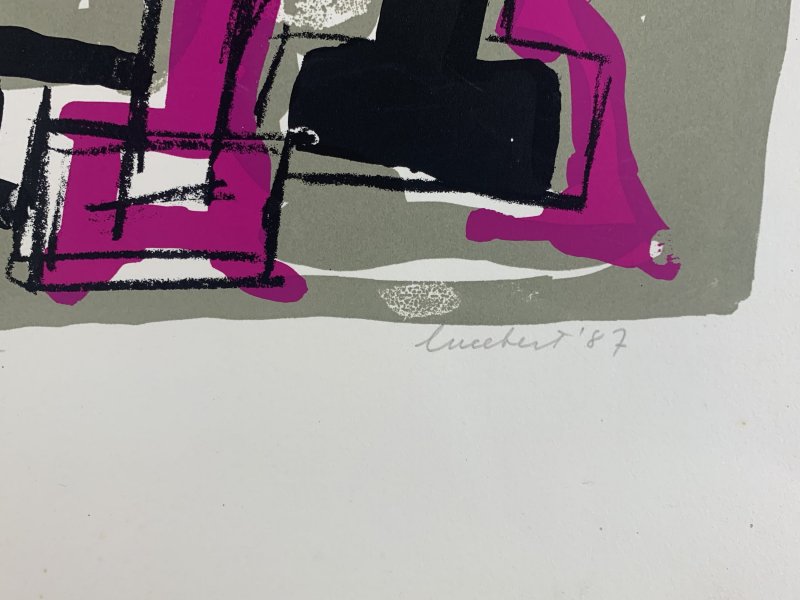 Weduwe van de zee
Jaar: 1987.
Afmeting afbeelding: 61×45 cm.
Afmeting papier: 70×53 cm.
Signatuur: r.o. met potlood.
Landscape with farmhouse and raincloud
Chris Huidekoper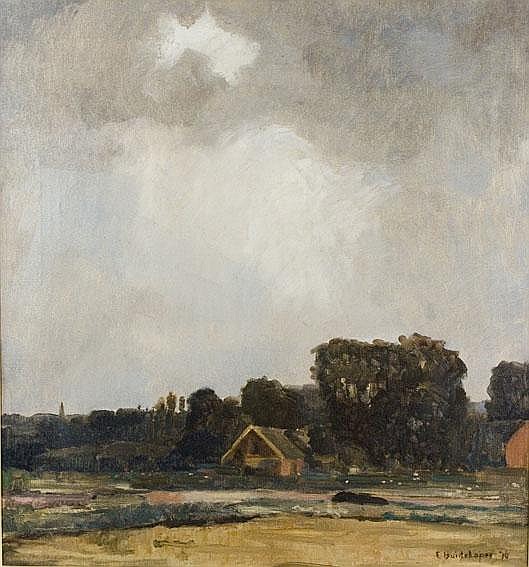 Landscape
geboren 2 juni 1878
Groningen
gestorven 14 november 1939
Rabat (Marokko)
Kruikje op wit laken
Kees Blom
olieverf op paneel
24 x 16
gesigneerd r.o. en 2007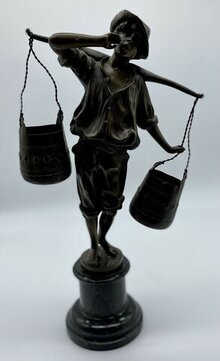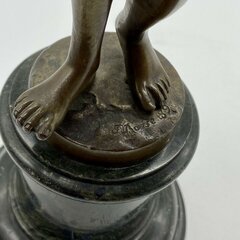 Waterdrager
Franz Rosse (1858-1900)
Staande op een hoge ronde voet van groen marmer, een jonge jongen in een boerengewaad, blootsvoets met opgerolde broekspijpen en een wijd hemd. Hij draagt een lang juk over zijn schouders en balanceert er twee emmers water op. Hij houdt een van zijn handen voor zijn mond als trechter om kopers te lokken. Hoogwaardig, donker gepatineerd brons. Gesigneerd F. Rosse op de sokkel, gedateerd 1897. De beeldhouwer Rosse woonde en werkte in Berlijn. Hij werd opgeleid in Hanau aan de staatstekenacademie onder Max Wiese en vervolgens onder Fritz Schaper aan de Berlijnse academie. Zijn bekendste werk is het Kaiser Wilhelm Memorial in Rathenow. (Thieme-Becker). 39 x 25 x 11 cm.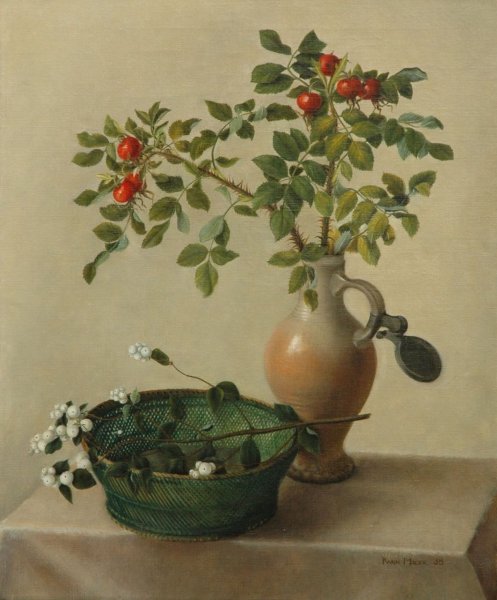 Stilleven met bessen en rozenbottels
Karin Mader
1910-1973
olieverf op doek
60,2 x 50,3 cm,
gesigneerd rechtsonder
gedateerd '38